In recent years, a market directed at a specific social class has been growing in China. It's the market for baby products. Parents of the new era seem, in fact, to be driven to buy, especially online through e-commerce sites, baby products even at high prices. The incentive of children's e-commerce has arisen from the new Child Policy. Since last year the Chinese Party has authorized couples to have three children, and today there is even talk of five children per household. But let's look in detail at how the amendment to the Population and Family Planning Policy has boosted sales of baby products in China.
Who buys baby products
Currently, China's online community is represented by young people, with greater spending power than ever before. This generation, born in the late 1980s and early 1990s, has witnessed China's digital and economic prosperity. It also has a higher income than previous generations. Families in this group are willing to pay more for products considered useful for their children and mothers-to-be. As a result, demand for this type of market is higher than in other sectors. Moreover, these buyers are very quality-conscious. In fact, they prefer to pay more for a product with better quality.
Furthermore, a fact not to be underestimated is the demographic distribution of young Chinese parents. It is thought that they prefer to live in the first tier city. Thus, they allow their children to have a better education to take the gaokao, the difficult high school graduation exam that young students must take at the end of high school.
In fact, because of the lower cost of living, more mothers and fathers are registered in lower-end cities.
To summarize, what are the reasons for market growth?
– The relaxation of the one-child policy, accompanied by the rising household income of Chinese families
– Families are willing to pay a lot for useful products for their children
– Families are willing to pay higher prices for high quality and high safety baby products
– The rise of "New Retail" characterized by the integration of online and offline platforms
What are the main categories of baby products?
As mentioned earlier, Chinese consumers pay close attention to the characteristics of the product they buy. For example, very important is the brand name of the product. Chinese consumers prefer to buy products from international brands, especially for products such as infant formula and diapers. More in detail, the most purchased products are baby food and baby skin care products. This is followed by children's clothing and footwear, food and supplements, toys, high-tech devices, and finally fitness products.
>>ALSO READ: LIVE COMMERCE IN CHINA AND ONLINE SHOPPING
Market growth of baby products
China is becoming the leading hub for the maternity and baby market. Thanks to the introduction of China's new Child Policy, the child population has grown significantly. According to Statista, in 2019 the size of the market for mother and baby products in China reached about RMB 3 trillion, growing by about 15% per year over the past three years. In 2020, the sales revenue of this sector reached RMB 4 trillion. This type of market is expected to grow further in the next decade due to increasing demand. Overall, more than 69% of these super parents spend up to 30% of household income on products for themselves and their children.
To date, Chinese parents with children aged 0-12 years account for 300 million active mobile Internet users, and their Internet use is increasing. They spend more time on the Internet, with a 13.1% year-on-year increase recorded in 2020. Due to the high use of the Internet, websites and Apps, children's e-commerce growth has shown no signs of stopping in recent years. The key factors driving purchase decisions are word of mouth combined with quality assurance.
Promotion of baby products on social commerce
Word of mouth occurs through WeChat groups. Usually, the group administrator dispenses advice based on what the celebrities are doing. Thus, KOLs also play an important role here. More than 50% of consumers have high expectations of products recommended by KOL experts, who rely on Apps like Douyin to promote their products.
Kuaishou also has a large fan base of young parents. In 2020, it became the most popular platform for this community. In the same year, short videos on baby products increased by 200%. As many as 75 million users on Kuaishou are young parents, who daily exchange tips, watch videos, live streaming and comment. Finally, through dedicated links they directly access the product they just viewed.
Most used children's e-commerce platforms
If short video apps are the preferred platforms for exchanging opinions and influencing KOLs, however, e-commerce sites lead the way for purchasing products. According to the data just analyzed, online e-commerce is the focal point for the sale of baby products. In fact, online purchases through e-commerce platforms are far preferred over physical stores. The reason is that it is easier to compare prices and product features. Cross-border e-commerce is also enjoying considerable success for baby products, in addition to the usual domestic e-commerce already in the country. In 2020, the children's e-commerce market size in China accounted for more than 27% of the total market for mother and baby products.
What are the most widely used platforms for buying online? Let's see below two well-known and widely used platforms in China.
>>ALSO READ: THE MAIN PLATFORMS FOR CROSS-BORDER E-COMMERCE IN CHINA IN 2022
Tmall
Tmall is the Chinese e-commerce platform owned by Alibaba Group. Authorized brands and retailers have a presence on Tmall through the creation of a real Flagship Store. The store is customizable because it allows brands to successfully promote their identity and enables them to create a very accurate user experience. In 2020, Tmall significantly increased the sale of baby products. Two categories in particular saw steady growth. Baby food had an overall growth of 64%. While the sale of maternal nutrition products increased 206% year-on-year.
Tmall is the leader of online sales in China. It is highly regarded due in part to its cross-border e-commerce platform. The latter stands as the largest cross-border marketplace for foreign brands. So, it is highly regarded by all those parents who prefer foreign brands to Chinese brands. In fact, Tmall offers a wide range among the best foreign brands with high quality products.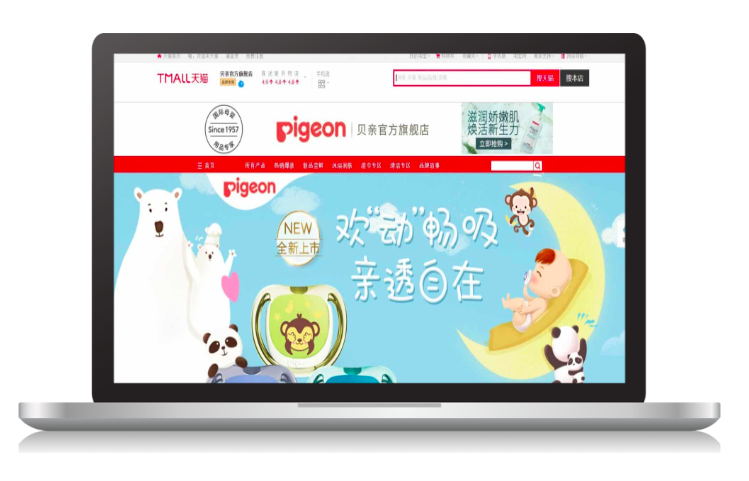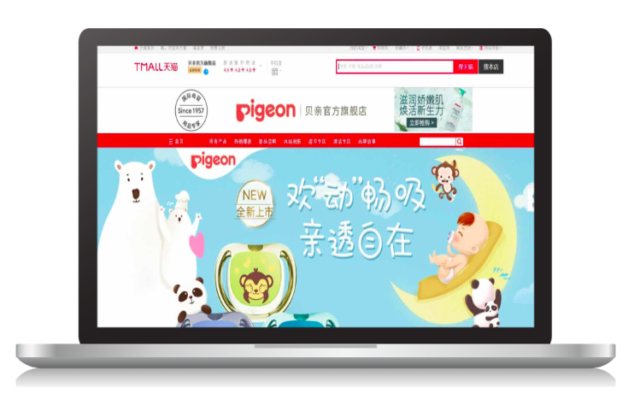 Homepage Tmall. Source: Tmall
JD.com
JD.com is a Chinese e-commerce company based in Beijing. It is the second largest B2C online retailer in China after Alibaba's Tmall. JD.com also did not miss the opportunity to sell baby products. In fact, it holds 24.2% of the total sales related to these products. Moreover in 2020, JD hosted a sales event called Super Dads Festival. During the Festival, products for children and parents worth 10 thousand RMB (about 2 thousand Euro) were presented. In addition to this, live streaming with famous dads and shopping and game activities dedicated to dads were broadcasted.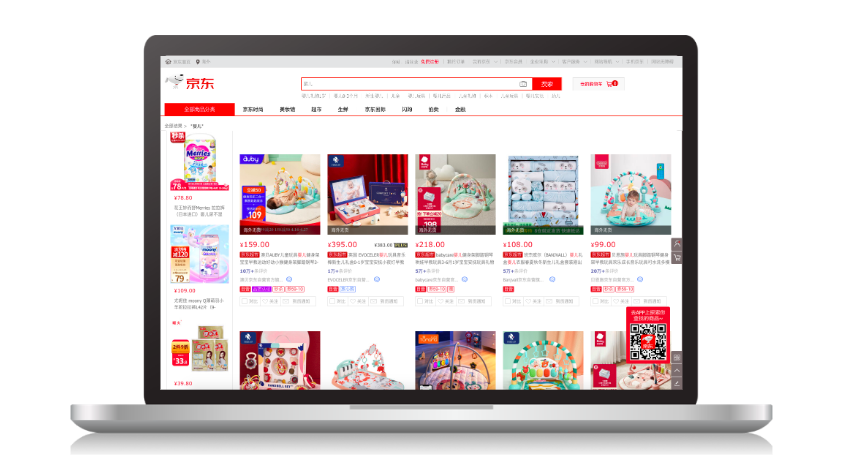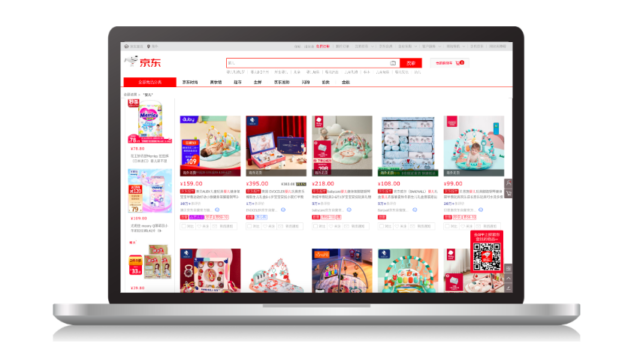 Homepage JD.com. Source: JD.com
In conclusion, children's e-commerce gets very favorable numbers, especially foreign brands that can enter China through some dedicated platforms, such as Tmall, by implementing an accurate digital strategy. In addition to e-commerce platforms, which are mainly used for selling and buying these products, Apps also play their key role. Used for word of mouth among their users, they can generate a considerable flow of users to those products deemed best.
Social and e-commerce presence, therefore, proves to be an effective gateway for foreign brands to enter the Chinese market and children's e-commerce is always growing.
In addition, because Chinese consumers are very sensitive to the perceived safety of foreign brands, the latter can exploit the gap in this area as demand for mother and baby items continues to increase.