CERAMICS AND B2B:
INDUSTRY ANALYSIS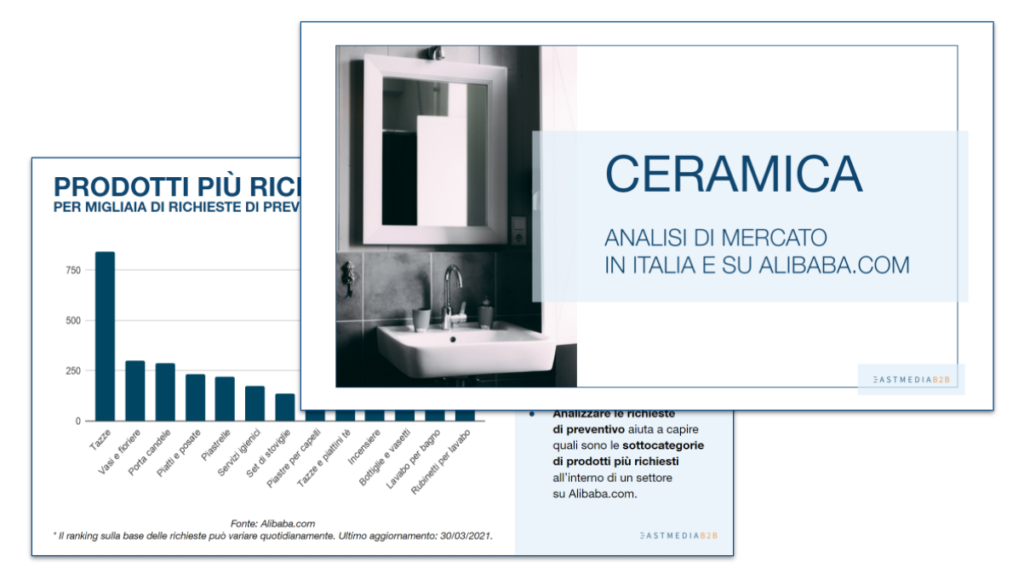 CONTENTS
That of the
ceramic
is one of the sectors that best represent the uniqueness and high quality of the
Made in Italy
in front of buyers from all over the world.
Download thefree excerpt tagged East Media to get:
Anoverview of the ceramicsindustry in Italy
The value ofItalian exports in the sector
The opportunities of online and offline trade shows
The ceramics industry on Alibaba.com
Best Case
CERAMICS AND B2B: DOWNLOAD MARKET ANALYSIS
CERAMICS SECTOR ON ALIBABA.COM
The ceramics sector is very important for tricolorexport, it is a very large market, divided into 4main subcategories: tiles and slabs, porcelain and tableware, sanitary ware and finally technical ceramics.
In 2019, it also had sales of nearly €7billion in 2019 and now has 279 active industries in Italy and more than 27000 workers. As can be seen from the data so it could be a profitable sector for many entrepreneurs.
But how to get discovered by buyers from all over the world? One important medium is online platforms, such as Alibaba.com. So you can reach countries such as:
United States
Canada
United Kingdom
Australia
India
Germany
Brazil
Russia
France
Italy
Do you want to find out more? Download East Media's industry analysis, just fill out the form!
---
DISCOVER OUR INDUSTRY ANALYSIS
In the B2B universe, ceramics is just one of many possible sectors; getting informed and in-depth to understand the opportunities available to us is essential.
East Media then compiled market analyses on some of the major sectors on Alibaba.com. Through these searches it will be possible for each company to evaluate, compare and understand the opportunities offered by the platform.