Digital Marketing in Korea is stimulating and fast-paced as is the Korean market, one of the new export frontiers in Asia.
With nearly 52 million inhabitants and a GDP growth of 4.1%, South Korea is one of the most interesting countries in the APAC region. Indeed, it has always been a trend-setter for all neighboring Asian countries, which follow Korean trends passionately. A similar effect has been going on in the West for a few years now: first, the Korean Wave has spread quickly to America and now to Europe. Pop culture and Korean products have a great success thanks to social media, making their way especially among young people: actors, such as Park Seo-joon, and k-pop singers, such as BTS, have won the hearts of millions of young Westerners.
However, Korea is also increasingly interested in Western trends: Made in Italy can take advantage of this and conquer the country with its excellence in many fields. Trade between Italy and Korea is up 12.9% from 2020, and is worth more than 5 billion euros. The sectors in which Italian exports excel are clothing and leather goods, but also machinery and equipment.
It is important for Italian companies to understand how to enter the Korean market: to do so, it is necessary to analyze various aspects of Digital Marketing in Korea.
Advertising Market in Korea
Korean spending in the advertising market was about 14 trillion won in 2021, nearly $12 billion, and up 20.4% from the previous year. According to Cheil Worldwide, which compiled this data, it is the largest growth since 1973.
In particular, the Digital segment grew by 31.5%, gaining more than 50% of total spending for the first time. This shows how important online promotion is for Korean companies, especially since the pandemic. For the same reason, it is also crucial for Italian companies to manage Digital Marketing in Korea in the best way possible in order to reach these distant customers.
Korea is one of the most connected countries in the world: 50 million people (98% of the population) are connected to the Internet, and 94% do so via cell phone. Social media is equally popular: more than 91% of the population uses it on a daily basis. Both the Internet and social networks are used to find information about brands and to discover new products for purchase.
In order to become popular, it is crucial to enter the diverse world of Digital Marketing in Korea. So, what are the steps to follow to reach the Korean market?
Download the 2022 guide on Digital Marketing in Korea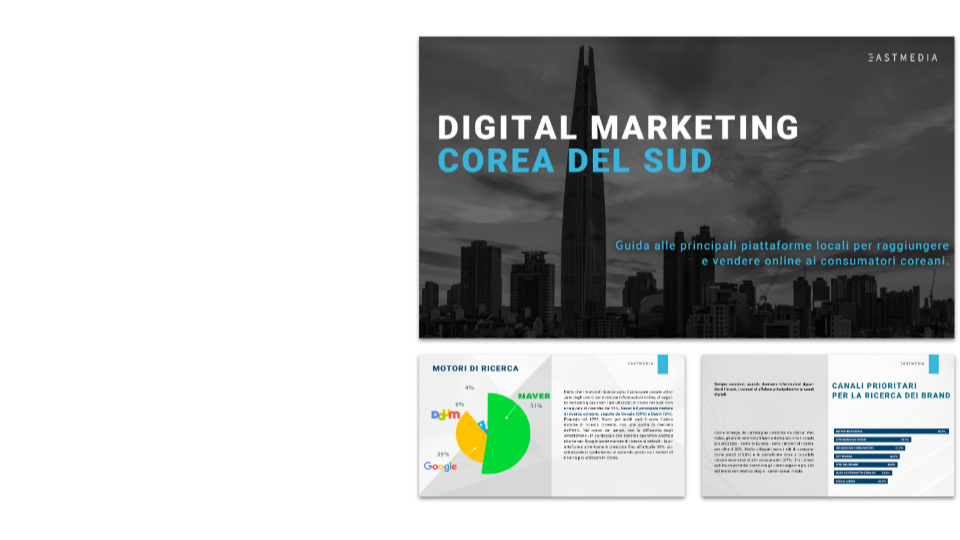 Strategies for Digital Marketing in Korea
1. Target audience research
Knowing the target audience is important for any marketing strategy; however, it becomes critical if the population you want to reach is almost 10000 km away. Knowing Korean consumers, their spending habits and even their culture is necessary to set up a strategy consistent with their needs and expectations.
Korea is a consumerist country just like those in the West: purchases are no longer made to satisfy primary needs, but for secondary ones related to establishing one's image and status. Koreans love to try new products and follow current trends, especially when it comes to fashion and electronics. However, they are very attentive to the brand: buying luxury products is the best way to assert one's social status. Italian brands can therefore win over consumers through a well designed digital marketing strategy in Korea, focusing on their elegant and sophisticated appeal.
In contrast to the West, the attention to a more "green" consumption is not yet so widespread: only recently a new category of consumers is looking for eco-friendly, natural or organic products. Even vintage, which is popular in the West, is not yet as sought after in Korea.
2. Competitors analysis
After identifying your niche of interest, it is important to analyze the Digital Marketing strategies adopted in Korea by your Competitors.
Not only can this help in figuring out the best strategies to adopt, but it can also be a great starting point to understand where to start when promoting a brand in Korea.
Analyzing campaigns, ads, collaborations with influencers and websites can provide a general idea of the industry you want to enter and its level of competitiveness.
3. Knowing the platforms for digital marketing in Korea
The world of Digital Marketing in Korea, with its platforms, is different from that in the West. For example, the most used search engine is not Google, but Naver (51%). Naver also offers a number of other services, including Blog, Shopping section, Cafe, etc., which ensure that the user can find answers to any of his or her needs. Brands can take advantage of SEO/SEM on Naver, which allows them to create both PPC and Brand Search campaigns.
As for social media, the most used platform (87.2%) by far is KakaoTalk: born as an instant messaging app, it now also allows people to post photos and videos, make payments, download games, and, above all, follow official brand channels. Companies can then interact directly with consumers: they can post pictures with links to products, send private messages and use Display Ads campaigns.
4. Selling products: e-commerce and marketplaces
E-commerce and marketplaces are also very important for digital marketing in Korea. South Korea ranks 5th in online sales volume: almost the entire population has access to the Internet and the connection is very fast. Buying online is not only convenient because shipping is fast but also because you can compare products and read reviews: Koreans often rely on them before making a purchase. Opening a site with a proprietary e-commerce can be a good choice, but the best option to become popular quickly is to take advantage of Korean marketplaces, that have a very large user base.
Coupang is Korea's largest marketplace: with $16.4 billion (2021) in sales and 119 million monthly visits, it is the perfect place to sell your products. The platform sells products from various categories, first and foremost fashion. The second marketplace is SSG, with $1.25 billion (2021) in sales and about 20 million monthly visits. Various product categories can be sold here as well, but the main ones are food and personal care.
5. Choosing the right partners
Finally, choosing the right partners is critical to plan and then implement a proper Digital Marketing strategy in Korea. You need people who know the Korean language and culture and are knowledgeable about the market in the APAC area. In order to promote your brand without having a physical presence in the country, it is necessary to rely on competent entities that are familiar with the world of Digital Marketing in Korea.
---
Download the 2022 guide on Digital Marketing in Korea
Click on the image below – you will be directed to a page with a form to fill out in order to get your updated 2022 guide on Digital Marketing in Korea! We will also send you an email, so you can have the guide at your fingertips at all times.