If you are wondering how to sell online in China, you are in exactly the right place. In fact, we thought we would offer you the list of 10 platforms that can guarantee your products' entry into the Chinese market. In fact, China's is the largest e-commerce market in the world. Chinese consumers prefer to shop online using their smartphones rather than going to a traditional store. This strong demand for online shopping has caused the e-commerce industry to become extremely competitive.
Here is a list of the top 10 Chinese e-commerce platforms, divided between local and cross-border. In fact, depending on your goals, target audience and competitors, it may be more useful to act with one or the other mode.
How to sell online in China – Local Platforms
With the local mode you ship from China to China. This of course has legal and financial consequences for the company. Indeed, to position yourself on a local platform requires opening a bank account in China, using an on-site warehouse, registering your brand, and using CNY payments. Delivery times, on the other hand, are very fast and returns management is effective. Let's look at the main local platforms.
1.Tmall (天猫)
Tmall is China's first e-commerce platform, owned by Alibaba. Tmall was created in 2008 out of Taobao Mall. In fact, the latter did not enjoy a good reputation at the time due to the counterfeiting of some of its products. Since 2008, Tmall has grown exponentially, reaching 711 million active users and a 63% market share. Its good fortune comes from being a generalist marketplace.
To sell on Tmall you must be the brand owner or an authorized retailer. The type of store can be flagship store, authorized or multi-brand. Warning: if you are making a mental comparison between Amazon and Tmall, remember that there is a significant difference in the structure of the site. In fact, on Amazon you simply launch your brand's products on the preset platform. In contrast, having your own store on Tmall means having your own homepage, landing pages, and product pages. As a result, the platform allows you to preserver the channel while increasing brand awareness.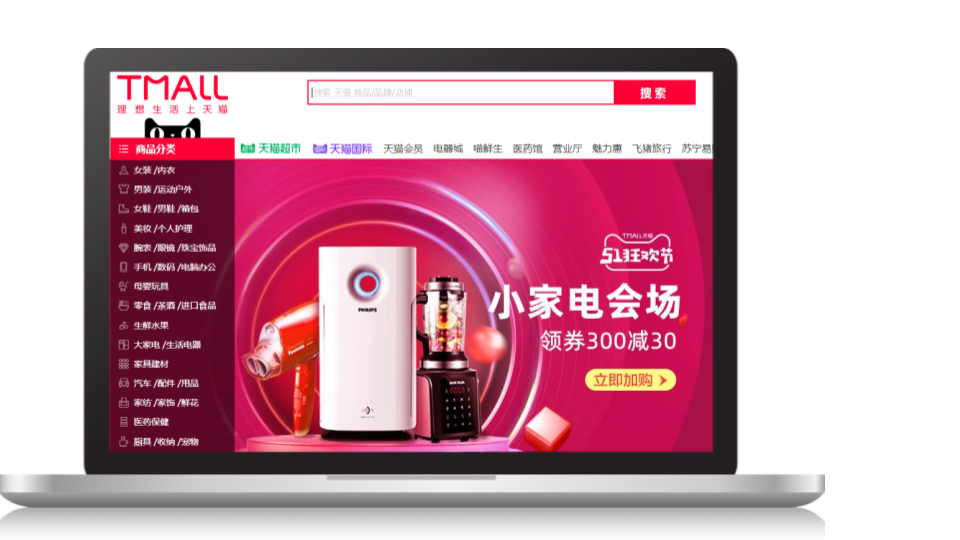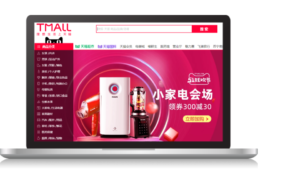 2.JD.com ( 京东)
With 362 million active users and 24% market share, JD.com is China's second largest online retailer. Like Tmall, JD.com also charges a fee for its service and collects a commission on sales. In addition, to sell on JD one must join its partnership process. Again, it is possible to open different types of stores, ranging from flagship stores to outlets.
JD is known for its speed in logistics and same-day delivery. This is because it can boast of owning 200 warehouses and more than 5,000 pickup points throughout China. Although it is second to Tmall, JD enjoys an excellent reputation on product quality. In fact, the mantra that inspires JD.com's policies is "quality first." Thanks to its inventory control system, the presence of counterfeit products is greatly reduced.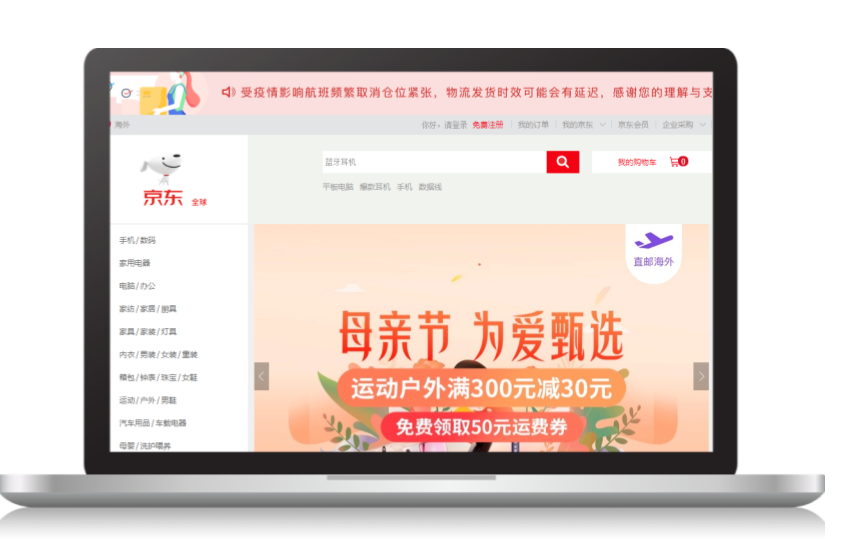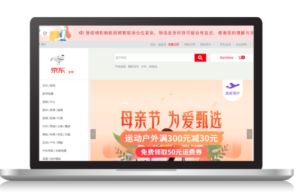 >>ALSO READ: JD.COM: HOW TO USE IT TO SELL IN CHINA
3.Taobao (淘宝网)
The Taobao platform was created by Alibaba in 2003 to counter eBay in the Chinese market. And it has been very successful. Since then Taobao has been constantly upgrading itself to remain among the top players in the e-commerce market in China. After Taobao Mall, mentioned above, came Taobao Live, the Taobao-linked live streaming platform established in 2016. Between 2017 and 2019 alone, the increase in sales on Taobao generated by Taobao Live was 150%.
For a company that is wondering how to sell online in China, Taobao continues is a good place to start. It works just like eBay: you can then open your own store and start selling right away. This is why it is populated mainly by small brands or even individual retailers.
The ease of access to this platform is, on the other hand, also its Achilles heel. Indeed, as mentioned earlier, at one time Taobao did not have a very good reputation due to the presence of numerous cheap counterfeit products. It is currently trying to distance itself from this issue, putting the focus on the opportunities it offers especially to its younger users to grow their brands or simply to find unique products.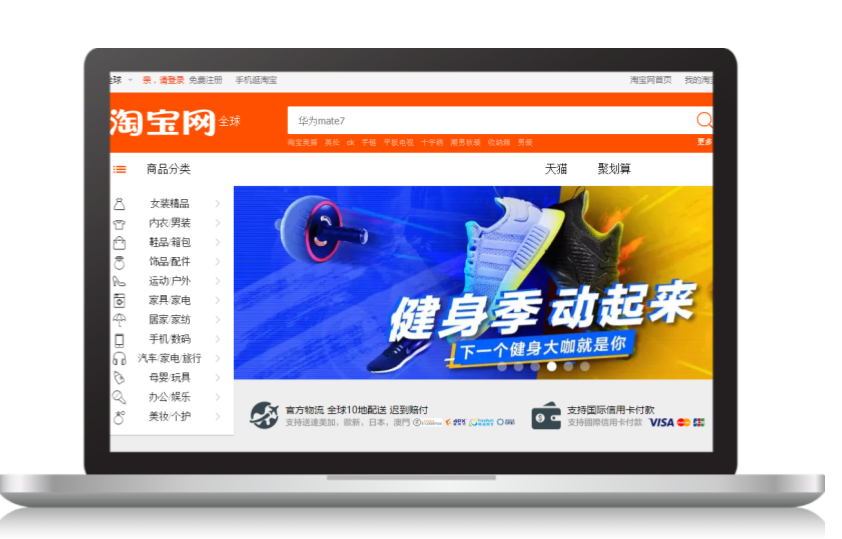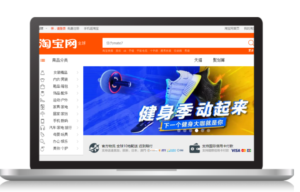 4.Xiaohongshu – Little Red Book (小红书)
At present, Xiaohongshu (Little Red Book) is one of the most interesting e-commerce platforms. In fact, the players we have been talking about are quite traditional and similar to each other. Xiaohongshu, however, is not just a platform for online shopping: it is a cross between a social network and an e-commerce. Sort of a fusion of Pinterest and Instagram where you can also buy products directly. For this reason, it is also a popular platform for brands to start profitable collaborations with Key Opinion Leaders (Chinese "influencers").
Xiaohongshu is a good platform for a foreign company to start, particularly in the fashion or luxury industry.
>>ALSO READ: KOL "KEY OPINION LEADER": INFLUENCERS IN CHINA
5.Pinduoduo (拼多多)
Pinduoduo is another emerging platform that is very interesting for Italian brands that do not know how to sell online in China. As in the case of Xiaohongshu, it is a social commerce platform which combines social elements with e-commerce traits. What is special about Pinduoduo, however, is that it focuses on the advantageous price of products. In fact, the platform offers its customers increasingly reduced prices as they involve other contacts from their social network in a group purchase.
The success of this approach is confirmed by statistics. Since its inception in 2015, Pinduoduo has come to be the fifth largest company in the Chinese e-commerce market, after Alibaba Group, Tencent, Meituan, and JD.com. This is evidenced by the number of its active buyers, which stood at 440 million in 2019. For brands, this platform can be very useful for a rapid increase in brand awareness and to reach out to the third and fourth tier city consumer groups that are more careful about their spending.
6.Suning.com (苏宁易购)
Suning.com is the e-commerce platform of Suning, one of the largest private retailers in China. By sales volume, Suning is not yet at the levels of JD, TMall, and Taobao. However, in 2020, it recorded very positive numbers, aided by the digitization of consumption due to the Coronavirus. According to the financial report for the first quarter of the year, the platform achieved operating revenue of about 7.5 billion euro. The share of online sales increased by as much as 69%, and 23 million new users arrived on the platform.
7.Minor platforms: Gome.com and VIP.com
Only a few of the most popular e-commerce platforms in China have been considered in this list. Actually, there are many more, and they often target specific industries such as fashion, cosmetics or baby products. Remember that to be successful, it is not enough to be present on one e-commerce platform. It can often be useful to position yourself on a smaller or sectoral platform that is particularly suited to your brand. For this reason, we mention two other smaller players.
– Gome (国美电器): The Gome company, founded in Beijing, has existed since 1987. Like Suning, Gome started with physical stores, particularly in the home appliance business in China and Hong Kong. It later opened its online platform gome.com.cn.
– VIP.com (唯品会): A platform founded in 2008 in Guangzhou by the company Vipshop. The main product categories offered include clothing and electronics. To make its offerings it focuses on flash sales and discounting. For this, it cooperates with more than 1000 brands, granting a discounted and advantageous price for customers.
Cross-border Platforms
With cross-border mode, shipping is international, so it is not necessary to store goods in China or register as a legal entity with a presence there. Payments are made in foreign currency, the trademark is registered abroad, and the company's bank account is also international. Shipping times, however, reach 10-14 days, and the management of returns is more complex. Although cross-border is a more fragmented market than domestic e-commerce, we still expect 200 million buyers in 2020. Let's see now the three major cross-border players in China:
8.Tmall Global
Tmall Global is the Alibaba Group-owned cross-border platform linked to local e-commerce Tmall. It is definitely the leading player in China's cross-border sector. In fact, it hosts 20,000 brands from 77 different countries. It not only helps international brands to open their own store to sell in China, but also supports them in technical and administrative aspects.
9.Kaola.com
Launched in 2015 and acquired in 2019 by Alibaba, it is one of the leading cross-border e-commerce platforms. It collaborates with brands of clothing, maternity, beauty, and many other product categories. By buying directly from overseas brands, it avoids middlemen and local distributors. Thus, it can offer products at competitive prices.
10.JD Worldwide
Like Tmall and Kaola, JD Worldwide also offers its spaces to act as a virtual showcase for international brands. Through partnerships with international logistics companies such as DHL, it ensures that product is shipped to the customer in China. Among the main requirements for brands to enter this platform is to be a company registered outside China. At the same time, however, one must ensure that there is an on-site returns center and that product descriptions are translated into Chinese.
---
The 14th Annual Report of the Italy China Council Foundation – ICCF – is Italy's most authoritative and comprehensive guide to the political, economic and business access scenario in China. Download the excerpt prepared by East Media on Digital Marketing in China!