China is the world's top country for online sales, and more and more companies are relying on e-commerce. These include major names in the fashion world such as Moschino, which has chosen Tmall as its online showcase to reach Chinese consumers. Already present in the Luxury Pavilion, the exclusive invitation-only section of Tmall, the Italian fashion brand is expanding its presence with a real virtual boutique on the Alibaba group's platform. This is a strategic debut for Moschino, which thus aims to reach a rapidly growing consumer segment, such as Millennials.
Partner in this important project for Moschino is Triboo, thanks to the joint efforts of East Media, which recently joined the Group, and Triboo Shanghai, the division created to give support to companies in the Chinese market and the only Italian Tmall Partner based in China.
A full-scale collaboration for Moschino
Triboo Shanghai and East Media's engagement led to the creation of a Moschino Flagship Store" on Tmall and the creation of the moschino.cn webpage, with local hosting to ensure the best performance. As Gabriele Barbati, at the helm of Triboo Shanghai, said, "Our involvement also extended to defining the tools needed to ensure optimal management of logistics, stock flows and administrative aspects. Triboo was involved in managing store management, customer care and all operations in the Chinese territory with its local team. In addition, we coordinated the web photoshooting and together with East Media we defined the exclusive content for the social channels and the management of the adv campaigns."
A team effort, also underlined by Mauro Comendulli, Co-founder of East Media: "the project for Moschino represents the perfect synthesis of the marriage between East Media and Triboo. Today we can offer our clients a wide range of services, supporting companies in the entire path of brand positioning: from the definition of the strategy to the sale of the product with the opening and management on the main e-commerce."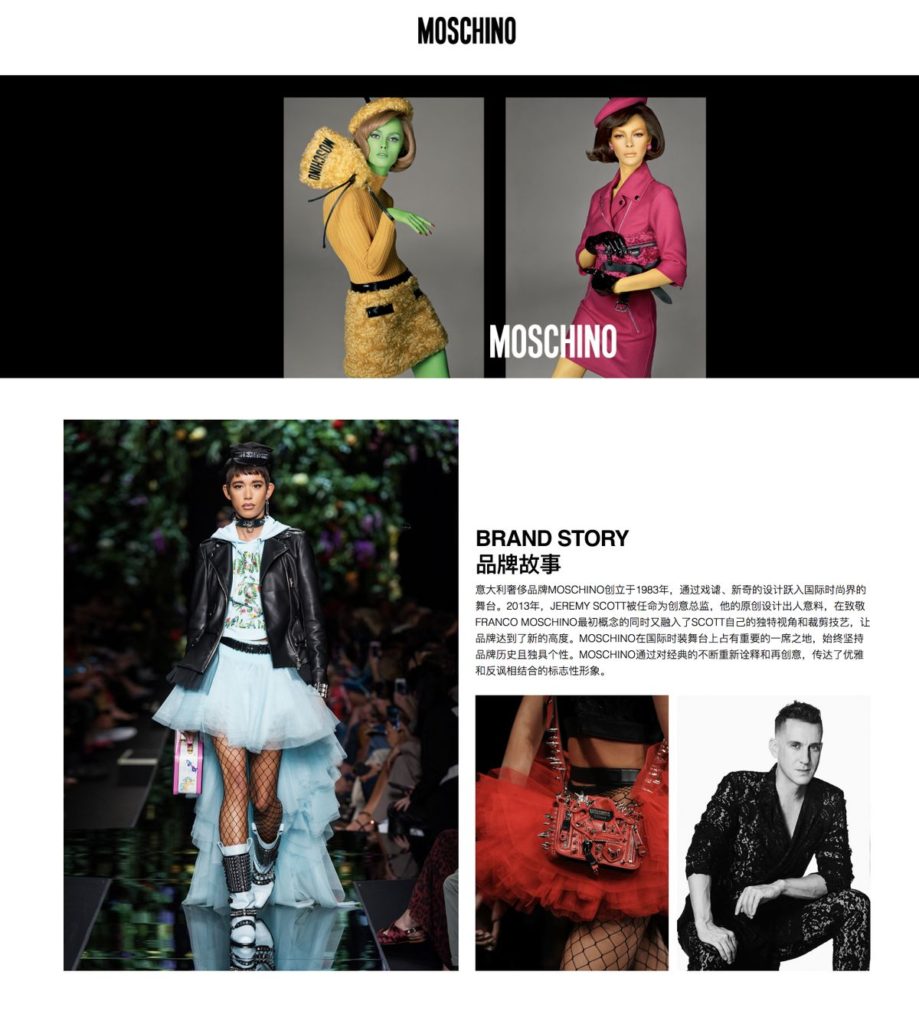 A part of the homepage of the moschino.cn website
E-commerce in China: a fast-growing market
In China, e-commerce is worth 17% of total retail sales. But it is expected to account for 42% of total consumption growth by 2020. So much so that forecasts for 2018 speak of 540 billion euros in sales, 210 of which are generated by the fashion sector alone. These numbers are enough to understand how important it is today for Italian companies to invest in online sales.
Like the Chinese social networking landscape which is dominated by WeChat and Weibo, the marketplace landscape is also quite different from that in the West. The most popular ones are certainly Tmall and JD, but there are other platforms that allow reaching specific market sectors or niches. For example, Secoo is an e-commerce for the luxury world, with an average receipt of 400-500 euros. Or emerging realities such as Pinduoduo, which is experiencing success by specializing in the target audience of mothers. Each platform offers services and has exclusive features that should be carefully evaluated according to brand positioning and target audience.
An integrated strategy between e-commerce and social channels
When it comes to China and e-commerce is very important planning a communication strategy that supports the online sales channel. This may be obvious if the brand or product is not yet known in the Chinese market, but which also applies to established ones. Chinese consumers are rather wary and check the validity and originality of a product from multiple sources before finalizing a purchase.
Therefore, it's essential for a company to have a website properly translated into Chinese and optimized for Baidu, the most popular local search engine with 75% market share. Also important is to have a presence on their main social networks such as WeChat and Weibo. Plan a communication strategy that also involves Key Opionionion Leaders and influencers is also very important. All this while remembering to convey a message yes consistent with one's brand, but aligned with Chinese culture, which is profoundly different to Western culture.
China is an undiscovered market. While it may seem almost impossible to succeed in such a diverse and complex environment, it represents a consistent opportunity and a viable avenue. That is, if one knows the steps to take. China is not that far away.
---
To get a complete view of all of the new trends in China download the article from the Italy China Foundation's 13th annual report, the most comprehensive guide to China's digital landscape! Click on the image to download the article: