In China, there isn't only Valentine's Day, but a total of 5 celebrations for lovers!
Numbers are of vital importance in the Chinese culture. The 7th day of the 7th month of the lunar calendar represents an important holiday, the one of lovers! Also known as 七夕节 (Qīxī jié), meaning Feast of the Seventh Night, the Lovers' Celebration is associated with a very romantic legend, which, like all folklore tales, circulates in numerous versions.
It tells the story of two young lovers, Niu Lang and Zhi Nu, a kind of Romeo and Juliet of ancient China. He is a poor cowherd, orphaned of both parents, she is a beautiful celestial fairy. One day, while looking after a sick cow, Niu Lang caught a glimpse of Zhi Nu and, as in the best glossy stories, it was love at first sight.
The two immediately decided to marry and gave birth to two children, before being tragically separated by the Queen of Heaven, wife of the Jade Emperor, who frowned upon unions between laymen and gods. Sensing her distress, the Queen Mother finally agreed to let the lovers meet once a year: on the 7th day of the 7th month.
Since then, people have celebrated this occasion by scanning the sky and praying to Zhi Nu. In the dark, the two stars of the lovers can be seen meeting again, and young women ask Zhi Nu to learn to weave and to find love.
Chinese Valentine's Days: there are 5 holidays in total
Despite having just one holiday associated with lovers, Chinese people today tend to celebrate "Valentine's Day" during other occurrences, especially younger generations:
February 14th: our Valentine's Day (情人节, Qíngrén jié).
March 14th: the so-called White Valentine's Day, (baise qingrenjie). A celebration that comes from Japan, promoted since 1978 by the confectionery industries.
May 20th, or 520: it is pronounced 五二零 (wǔ èr líng) in Chinese, sounding very similar to 我爱你 (wǒ ài nǐ), which means "I love you".
15th day of the Chinese lunar calendar: historically, however, the first Chinese Lover's Day fell on this day, which together with the Lantern Festival, marks the end of the holidays associated with the Chinese New Year.
In these more recent-born holidays, customs are more related to the Western consumerist universe. People give flowers, chocolates, and seek out more luxurious restaurants, a great social media marketing opportunity.
Valentine's Day in China is celebrated also on the web
On each of these dates, major Chinese social networks such as WeChat and Weibo are stormed by messages of good wishes. Major e-commerce sites such as Tmall and JD.com offer a wide range of products dedicated to lovers.
With more than 750 million digital users, everything is moving on the Web in China. And even a romantic celebration like "Valentine's Day" becomes a good opportunity to plan marketing campaigns. Whether it is to give visibility to one's brand or to exploit an anniversary for commercial purposes.
The most striking example is certainly 11/11 (November 11th), the date on which "Single's day" is celebrated. An anniversary that the Alibaba Group has turned into the "Global Shopping Festival." A day of wild shopping, which last year led Tmall to turnover more than 22 billion in just 24 hours. More than Black Friday and Cyber Monday combined!
>> READ ALSO:
China: a distant world
China is a distant country both geographically and culturally. Approaching such complex countries requires careful 360° assessment and analysis: this is the only way to achieve concrete and lasting results.
More than 800 million Chinese connect to the Web every day, mostly via smartphone, to chat, get information, conduct research and finalize purchases. But to do so, the Chinese are using different tools than Western ones. Facebook and Twitter are giving way to highly advanced social networks such as Weibo and WeChat. Google itself is replaced by Baidu, the main local search engine. For this reason if you want to reach potential Chinese consumers you have to be found on the digital tools they use.
---
The 13th Annual Report of the Italy China Council Foundation – ICCF – is Italy's most authoritative and comprehensive guide to the political, economic and business access scenario in China. Download the excerpt prepared by East Media on Digital Marketing in China!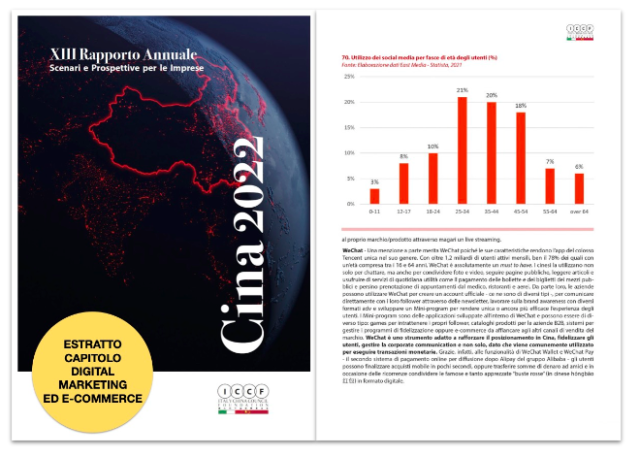 Want to learn more about entering and selling in China?
For information on which MARKETING STRATEGY to adopt, write to us and we will contact you in a very short time.
CHINA IS CLOSE… -> info@east-media.net