Beyond Wall, live commerce, born from the fusion of live streaming and e-commerce, is emerging as a new marketing tool to sell products, interact directly with viewers and acquire new customers. All of this happens in real time, shortening the time it takes for users to convert. It is actually made possible by an evolution that has recently affected many platforms, which have integrated live streaming capabilities into their systems. But let's look in detail at what is meant by live commerce in China.
What is live commerce
There is a new phenomenon in China that has been gradually gaining ground in the world of e-commerce and online shopping. This is live commerce, or the fusion of two different types of digital channels and models. In fact, on the one hand we have live streaming for the live presentation of products and on the other hand we have e-commerce for being able to consult the product sheet when they appear. All of this is often placed in a context of social networks, since while following the live show you can make comments, ask questions directly to the streamer and send emoji. From this hybridization of channels and formats come true online shows whose ultimate goal is the live sale of various kinds of products, especially accessories. The live commerce experience is therefore totally different from any other online shopping activity. It is the evolution of in-store sales formats, where physical space is increasingly an experiential space and less and less commercial.
How live commerce works in China
How does a live commerce sale work in China? There are two key players: the live streamer and the audience. Who runs the live streaming is either a KOL (Key Opinion Leader), or a KOC (Key Opinion Consumer). KOLs are the Chinese web celebrities, while KOCs are the consumers considered most influential in certain communities for certain product categories. The content and services for sale can be varied. Early adopters were cosmetics retailers. It has been seen, how accessories are the favorite product to sell during live streaming sessions. However, nowadays, the level of products and product categories has been increasingly broadened. Indeed, it ranges from food & beverage to clothing, from personal care products to luxury goods such as shoes, watches and handbags. While watching a live streaming, users can inquire about a product and buy it on the spot, without ever changing platforms.
This new way of selling is enjoying great success in China, thanks to the combination of entertainment and direct relationship with consumers, who feel like protagonists and not just spectators or anonymous buyers. So, to recap, the main strengths of live commerce are:
– the possibility for consumers to get favourable prices and exclusive offers during live streaming sessions;
– the real-time interaction between buyers and sellers that mimics the shopping experience in the real, physical store;
– KOL content that creates a form of entertainment that attract new customers every day;
– the possibility for brands to increase their sales volumes and boost traffic to their e-commerce sites or Flagship Stores, all through an easy and intuitive sales mode.
Live commerce data in China
The live commerce phenomenon has been growing exponentially in recent years, reaching a value of RMB 1237.9 billion (178 billion euro) in 2021. The peak of live commerce occurred during the Covid-19 pandemic, when, due to the forced closure of stores, it became the necessary choice for all luxury brands, which appreciated the possibility of direct interaction with customers offered by streaming, seizing its advantages over physical retail, such as customization.
In 2021, live commerce began to gain significant popularity, reaching as many as 7 out of 10 people in China.  According to estimates, by 2022 this will further grow the value of live commerce by 20.3 percent, reaching RMB 2.8 trillion (400 trillion euro).
However when is the most profitable time for live commerce? Definitely during Chinese festivals. For example, the shopping festival on 6.18, the second most important event after Single's Day (11.11), has made big gains in the past few years thanks to the use of live commerce, exploited by some brands as the only sales channel.
In conclusion, it should be emphasized that even with the reopening of physical stores, live commerce has shown no signs of letting up. On the contrary, it continues to renew itself in the way it is delivered by the many Apps that now provide this functionality.
The most widely used platforms for live commerce in China
We have said, therefore, that live commerce in China has become popular among buyers as it offers lower prices as well as many other advantages. Let's see what platforms foreign brands can do live commerce in China on.
Taobao Live
Taobao Live, launched in 2016 by Alibaba Group. In addition to boasting the best live streamers, Taobao Live is always striving to engage new merchants in order to meet the demands of its users. These, in fact, exceed 750 million. Its offer is extensive and integrated with that of the Tmall marketplace and the rest of the Alibaba Group platforms. In live streaming commerce, Taobao Live generated a gross merchandise value of RMB 500 billion in 2021 (71.6 billion euro).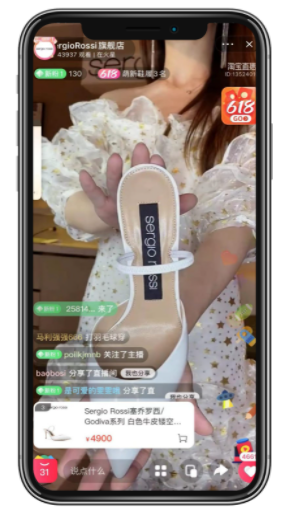 Live streaming session on Taobao Live by  Sergio Rossi, managed by Triboo East Media. Source: Taobao Live
>>ALSO READ: THE MAIN PLATFORMS FOR CROSS-BORDER E-COMMERCE IN CHINA IN 2022
Xiaohongshu
Also known as Little Red Book and is a social commerce. In 2019 it enters the live streaming. Its users are mostly young Chinese women and users born in the 1990s, thus Millennials and Gen Zers. From the beginning, several live streaming launched on the platform have shown promise. In fact, Xiaohongshu takes great advantage of KOL, who bring a significant number of users to view. The App allows brands to create their own store in which they can sell merchandise directly (including cross-border) and has also recently added a feature that allows users to click on a link and link directly to a Taobao page, thus linking back to the Alibaba ecosystem.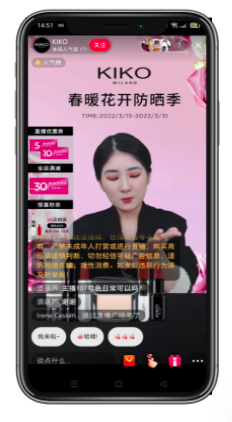 Live streaming session on  Xiaohongshu by Kiko Milano. Source: Xiaohongshu
Douyin
Douyin (the Chinese version of TikTok), the leading short video platform, introduced an e-commerce function in 2018. Many luxury brands have accounts and willing official stores on Douyin, and in order to attract more users, they have begun producing live streaming with popular influencers. On Douyin, live streaming user traffic is generally channeled through short video content. Therefore, each content is viewed according to the user's taste. Due to its huge popularity, Douyin's live commerce revenue has reached the value of RMB 800 billion in 2021 (114 billion Euro).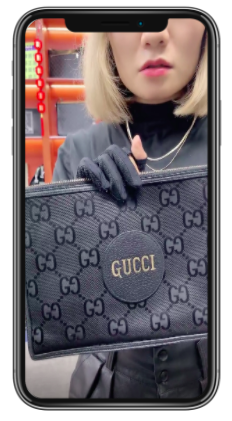 Live streaming session on Douyin by Gucci. Source: Douyin
WeChat
WeChat, the Super App owned by Tencent Group, also recently launched its live streaming feature to stay ahead of the curve (keep up with the times). As the most popular and widely used App in China, its live streaming feature available for official accounts is extremely promising for the future of online retail. Since its launch, many international brands have already taken advantage of this new feature, redirecting customers directly to their WeChat Store, WeChat Mini-program or Flagship Store on marketplaces such as Tmall.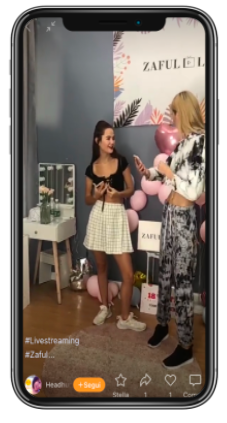 Live streaming session on WeChat by Zaful. Source:WeChat
JD.com
The B2C marketplace JD.com launched its live streaming channel in late 2017 and has been offering a program to train professional streamers since the following year. By partnering with video app Kuaishou, live streamers have the opportunity to sell JD.com's products, greatly expanding the fan base of both platforms. With more than 88 million daily active users, JD.com is best known for home appliances and consumer electronics, and remains an interesting platform to consider in conjunction with larger marketplaces such as Tmall.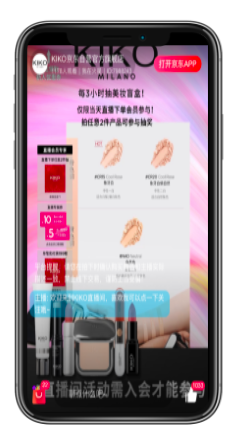 Live streaming session on WeChat by Kiko Milano. Source: JD.com
Kuaishou
Kuaishou, Douyin's in some ways rival video app, launched its live streaming function in 2017. Although it entered the live streaming world after platforms such as Taobao, it has grown extremely fast. Kuaishou's secret is to use trusted KOLs to create a fan base based on a close relationship with the audience. Sales of personal care products, cosmetics, clothing, food & beverage are the most popular. Its e-commerce features can also be accessed through third-party platforms including Taobao, Tmall and JD.com. However, Kuaishou's current goal is to develop its own store to keep users in the App instead of directing them to third-party platforms to complete sales.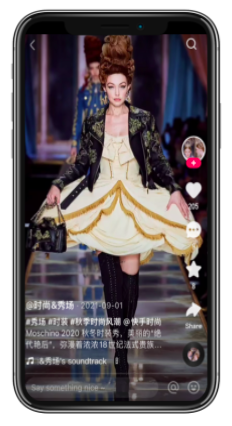 Live streaming session on Kuaishou by Moschino. Source: Kuaishou
How to choose the right platform
Since the post-pandemic period, it has become increasingly evident that these new forms of live streaming e-commerce will increasingly be a part of online sales in China. This is because of their extraordinary characteristics and potential, which make them appealing to the public and easily declined not only on products of different categories, but also on different price ranges and target audiences. Especially for companies in those countries like Italy that are always looking for new ways to reach Chinese netizens, live commerce is a positioning and digital market access tool not to be missed. Of course, with the right support from industry professionals!
---
The 13th Annual Report of the Italy China Council Foundation – ICCF – is Italy's most authoritative and comprehensive guide to the political, economic and business access scenario in China. Download the excerpt prepared by East Media on Digital Marketing in China!