On the cover: different uses of the metaverse for digital activities in China. Source: elaboration by East Media.
The metaverse in China has seen great growth last year and also in 2022. More and more brands, especially in the luxury world, have begun integrating new virtual reality technologies into their marketing strategies to keep up with this digital trend.
But let's start from the beginning: metaverse means first of all a virtual reality that replicates the main social and entertainment activities that also exist in the real world. Since its creation, this digitally created "parallel world" has also been of great interest at the business level. In fact, many brands have perceived its potential to innovate their digital strategy. Thus, the metaverse has become a true parallel universe where users can make purchases, participate in events and enjoy unique experiences. All with a strong influence from the gaming world.
Big tech and metaverse in China
The metaverse in China is not new in recent days. Since 2021, it has been in the spotlight when it comes to digital, so much so that more and more local tech giants such as Alibaba Group and Baidu are busy planning their way into this new virtual world. So, although it is thought that the rebranding of Facebook – Meta launched by Mark Zuckerberg last winter kicked off the whole process of spreading the metaverse for the use and consumption of the general public. Actually, in China this had already been a reality for some time.
At the last Double 11 Shopping Festival, for example, Alibaba Group launched its "Metaverse Art Exhibition" to boost sales, achieving excellent results. Through this innovation, Alibaba's metaverse hosted art exhibitions in NFT sponsored by luxury brands such as Burberry, Longines, and Coach. In August, ByteDance (parent company of Douyin, the Chinese sister company of Tik Tok) invested RMB 9 billion in the acquisition of virtual reality hardware manufacturer Pico. The giant Tencent, which owns WeChat and QQ among other platforms, had already been working on possible uses of the metaverse in its ecosystem since 2019, when it entered into a partnership with Roblox, a video game where, as early as 2006, people can create their own virtual worlds and socialize with other users.
Virtual idols in the metaverse
Coinciding with this phenomenon, Chinese Key Opinion Leaders have also been joined by a new model of influencer, now the protagonist of this virtual reality: virtual idols. Among the most famous ones appears the name of Ayayi, created by Alibaba Group as a support figure for online promotion strategies and then becoming in effect a KOL. Ayayi, in fact, has been hired by brands such as Burberry or magazines such as Mo Magazine.
This magazine, a collaboration between Alimama, a tech platform led by Alibaba Group, and Huasheng Media, offers an immersive reading environment in virtual reality. The idea has been very successful, already bringing 88% of readers to the conclusion of the virtual reading of the magazine's first issue. An incentive was also provided by the ticket "Metaverse Spaceship", given to all who completed the reading. In just two days since the launch, more than 400,000 users have been reached, and the number is expected to continue to grow thanks to related trending hashtags on Weibo and site views.
Zheli: top and flop of the first metaverse-based app in China
In this new virtual reality 啫喱 Zheli has quickly established itself as the Beyond the Wall App of the moment. Launched on January 19, 2022, it has caught up with and surpassed WeChat in the number of monthly downloads, climbing the rankings of free iOS Apps in China. On the App, users could create their avatars and live their lives in the metaverse. In fact, each user on Zheli could reinvent their look for free by choosing from 115 different facial features and 455 selected clothing and accessories. Moreover, although it was still a very early version, the App already gave users the ability to invite up to 50 friends and interact with each other. Among other options, it was also possible to localize your avatar and decide where to meet. Because of this, Zheli quickly went viral, so much so that it was very successful on social media.
Despite the innovative format and much appreciated by users, the platform encountered some connection difficulties causing crashes from which several complaints resulted. Moreover, despite the goal of creating a version of the metaverse that was accessible to everyone in an easy way, the creators of the App ended up receiving several accusations. Indeed, controversy was created related to the issues of copyright infringement and the use of personal data. Because of this, the App was temporarily taken off the market with the goal of working on maintenance and fixing bugs within. We will see when it will be back on the market, but it has certainly laid the groundwork for the development of new channels in this direction.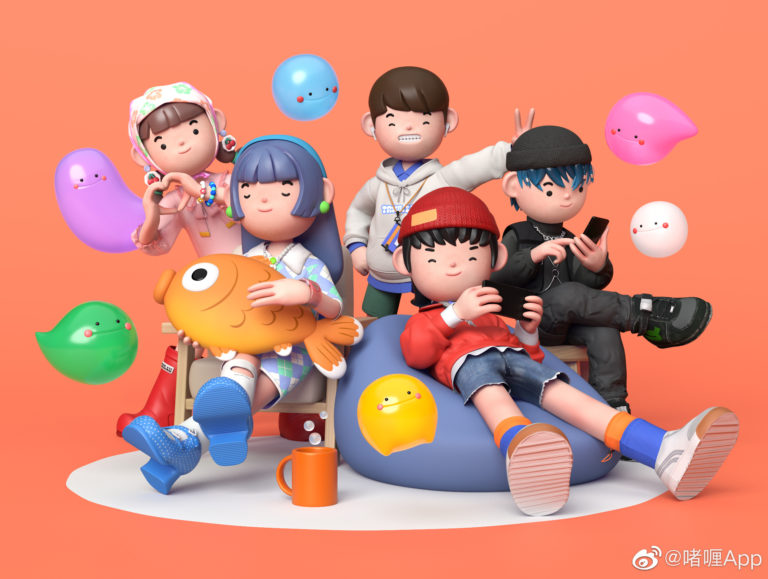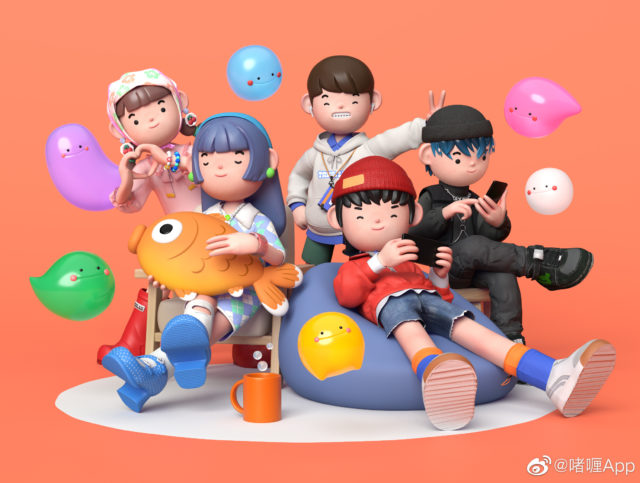 Avatars created on Zheli. Source : Weibo
The strategy of luxury big brands to exploit the metaverse
Luxury industry has seen a keen interest from early on by several brands in the metaverse, both in the world of fashion, in cosmetics and more. Among them L'Oréal has filed 17 NFTs for some of its brands such as Maybelline, NYX, Kiehl's and IT Cosmetics.
Still in the world of cosmetics, MAC has also decided to ride the wave by creating an ad hoc line on the metaverse together with virtual idol Ayayi. The MAC Lithful C3 is a line designed for skincare through treatments made with optical illusions that have all the credentials to revolutionize the industry in China.
One example from the industry of fashion is Philipp Plein's recent launch of 10 new sneakers, each with a limited-edition NFT counterpart that can be worn in Decentraland, a virtual world made up of just over 90 thousand plots, squares on a large map. In addition, on the occasion of Milan Fashion Week held Feb. 22-28, 2022, Philipp Plein decided to launch the first fashion line entirely born in the metaverse.
Metaverse in China: prospects for business
According to recent data published by Morgan Stanley, the Metaverse in China may soon reach a turnover of RMB 52 trillion. This is certainly a very important data and to keep an eye on for the future for all companies that want to invest in this market without falling behind.
Classic digital strategies for the Chinese market, already by their nature constantly undergoing updates and integrations of new platforms, will have to increasingly equip themselves with this asset as well. As the previous examples show, at present the use of metaverse is within the reach of large brands with a budget high enough to dedicate to this new asset. However, given the speed with which the metaverse is becoming accessible to everyone, it may not be long before solutions suitable for small and medium-sized businesses are developed as well.
---
The 13th Annual Report of the Italy China Council Foundation – ICCF – is Italy's most authoritative and comprehensive guide to the political, economic and business access scenario in China. Download the excerpt prepared by East Media on Digital Marketing in China!