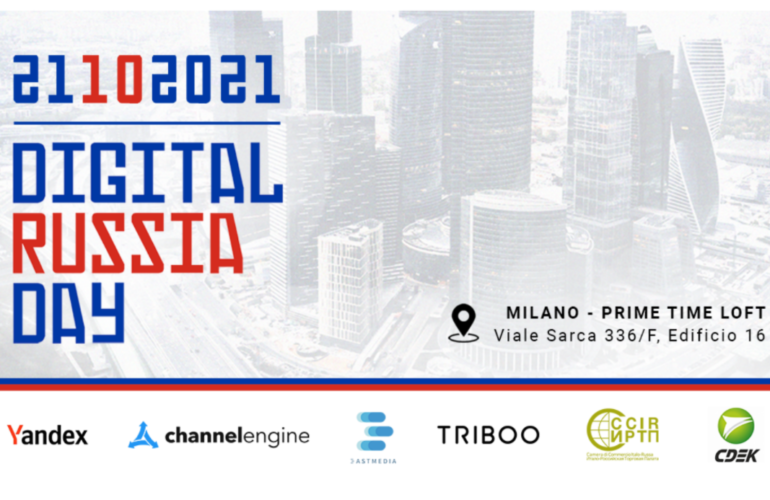 Il 21 ottobre 2021 a partire dalle ore 14:00 East Media sarà ospite del Digital Russia Day, l'evento italiano dedicato all'approfondimento di tematiche quali posizionamento, distribuzione dei prodotti, promozione e vendita online su e-commerce proprietario o marketplace cross-border.
Tra i principali partner dell'evento, insieme ad East Media, ci saranno Yandex, Camera di Commercio Italo-Russa (CCIR), CDEK, ChannelEngine e Triboo.
Tra gli speaker compaiono i nomi di Leonora Barbiani – Segretario Generale Camera di Commercio Italo Russa, Olga Yatsenko – Partner Manager Eastern Europe & CIS Market Channel Engine e molti altri.
Programma dell'evento
Il Digital Russia Day sarà un'intensa giornata di formazione ricca di speech in lingua italiana e inglese. Il programma prevede di iniziare alle ore 14:00 con un momento di benvenuto e di terminare alle 18:10 con un aperitivo di networking. A seguire il programma completo:
14.00-14.30: Registrazione

14.30-14.40: Welcome

14.40-15.05: Opportunità e prospettive di affari nella Russia post Covid-19
Leonora Barbiani – Segretario Generale Camera di Commercio Italo Russa

15.05-15.30: Vendere online: lo scenario in Russia
Ksenia Tsareva – Business Development Russia East Media

15.30-15.55: E-commerce: approccio al mercato e strategie di sviluppo
Manuela Figini – Ecommerce Business Director Triboo
Michele Buttazzoni – Chief Transformation Officer Triboo

15.55-16.20: How to scale-up on the marketplaces via automatization*
Olga Yatsenko – Partner Manager Eastern Europe & CIS Market Channel Engine

16.20-16.45: Soluzioni logistiche: gestire le spedizioni verso i mercati CSI
Ruslan Stash – Rappresentante CDEK Italia

16.45-16.55: Coffee break

16.55-17.20: Opportunities for premium and luxury brands at Yandex*
Kateryna Mikula – Yandex Partner Manager Europe

17.20-17.45: Seo in Russia: tips & tricks per espandere il tuo business
Emanuele Arosio – Head of SEO Triboo
Svitlana Serikova – SEO Russian Specialist Triboo

17.45-18.10: Social Media: dal posizionamento al drive to store
Darja Janovica-Marcenko – Head of Operations Russia East Media

18.10 – 19.00: Aperitivo networking
LEGGI ANCHE: VENDERE IN RUSSIA: LE 10 REGOLE PER UNA STRATEGIA DI SUCCESSO
PARTECIPA AL DIGITAL RUSSIA DAY
L'evento sarà l'occasione perfetta per scoprire tutte le ultime novità e tendenze che è indispensabile conoscere per avere successo in Russia, in particolare online e sul panorama digitale. Inoltre sarà anche un momento importante per conoscere i professionisti del settore e fare networking.
Partecipare è facile: è possibile dimostrare il proprio interesse cliccando sull'immagine qui sotto e compilando il form.
Attenzione: a causa dell'alto numero di richiedenti e della capienza limitata dell'evento compilando il form si prenota il posto. La conferma di avvenuta assegnazione del posto avverrà successivamente con una seconda comunicazione via mail.
Dal momento che l'evento si svolgerà in presenza, è necessario essere minuti di Green Pass.
Ti aspettiamo, non mancare!