Back To News
La Triboo Academy segna l'inizio delle attività formative 2020 esplorando i trend e le nuove frontiere del social media marketing. Da instagram a TikTok, dall'Europa al Far East con un focus sulle principali piattaforme cinesi e russe. Questa giornata di formazione gratuita avrà luogo giovedì 6 febbraio presso i headquarters del Gruppo Triboo a Milano. 
Saranno 4 i relatori protagonisti, ognuno di loro si focalizzerà su un aspetto differente del social media marketing. 
Influencer & Social Media Marketing
I social media sono ormai parte integrante della nostra vita, sono diventati uno dei principali metodi di comunicazione, sia per le persone che per i brand. Tanto che la pianificazione e implementazione di un'accurata strategia social oggi giorno può influenzare la performance di un brand. Fattori estremamente importanti da tenere in considerazione durante questo processo sono i trend, le piattaforme emergenti, e il comportamento degli utenti.
Molteplici sono le strategie per condividere contenuti e informazioni sui social, per esempio tramite influencer. La
creazione del contenuto
social tramite l'influencer marketing è particolarmente coinvolgente e contribuisce ad aumentare la brand awareness, stabilendo fiducia e credibilità. Ma le strategie possono - e devono - variare in base al mercato di riferimento. Specialmente quando si parla di Cina e Russia. Paesi lontani non solo geograficamente, ma anche culturalmente, dove gli utenti vanno ingaggiati con strategie spesso differenti da quelle occidentali, utilizzando piattaforme locali.
L'integrazione di strategie di comunicazione e marketing, scelte accuratamente e focalizzate 
sul mercato di interesse, possono portare a un brand dei risultati mirati rispettando a pieno il target migliore.
Durante la Triboo Academy del 6 Febbraio i relatori presenti saranno: Giuseppe Micheli (Social Media Coordinator), Lucia Peraldo Matton (Head of Influencer Marketing), Ksenia Tsareva (Business Development - Mercato Russia) e Giulia Yang (Project Manager - Mercato Cina)
Programma
09.00 - 09.30

Accredito e Welcome Coffee

09.30 - 11.00

Tra trend e piattaforme emergenti, come costruire una social strategy nel 2020.

Giuseppe Micheli - Social Media Coordinator

11.00 - 11.15

Coffee Break

11.15 - 12.15

Influencer e content creation tra nuovi social media e funzionalità.

Lucia Peraldo - Head of Influencer Marketing

12.15 - 13.15

Cina e Russia, strategie social media tra culture e piattaforme differenti.

Ksenia Tsareva - Business Development - Mercato Russia

Giulia Yang - Project Manager - Mercato Cina

13.15 - 14.15

Light Lunch

14.30 - 17.30

One to One - Incontro Personale con gli Specialist per un'Analisi Light delle Tue Strategie

Registrati Ora

Clicca sull'immagine per registrarti alla formazione gratuita sul Social Media Marketing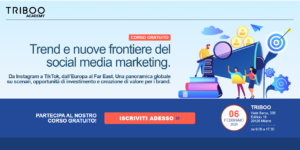 Vuoi saperne di più su come entrare e vendere in Cina?
Per informazioni su quale STRATEGIA MARKETING adottare scrivici e ti contatteremo in brevissimo tempo. LA CINA E' VICINA… –>
info@east-media.net